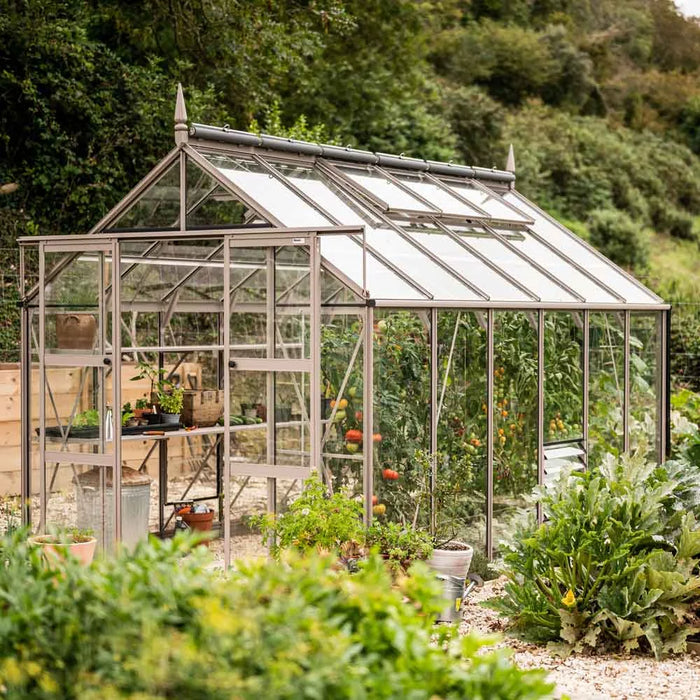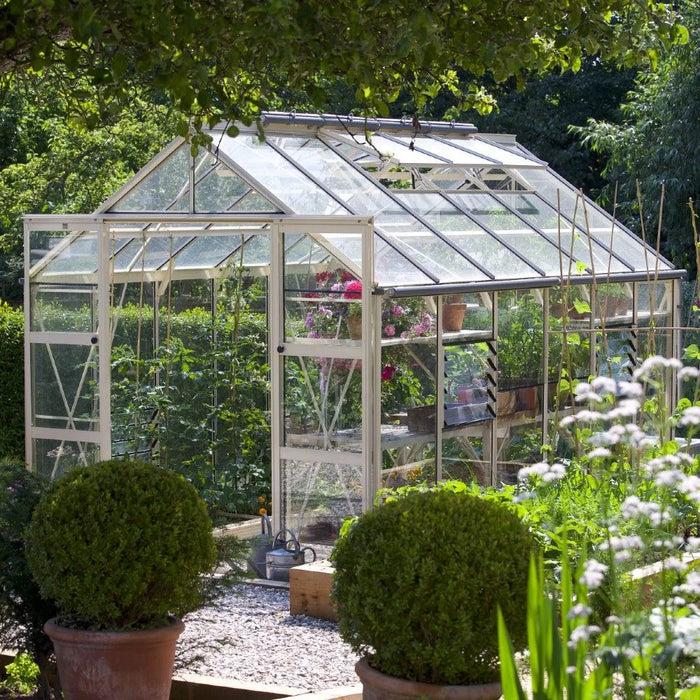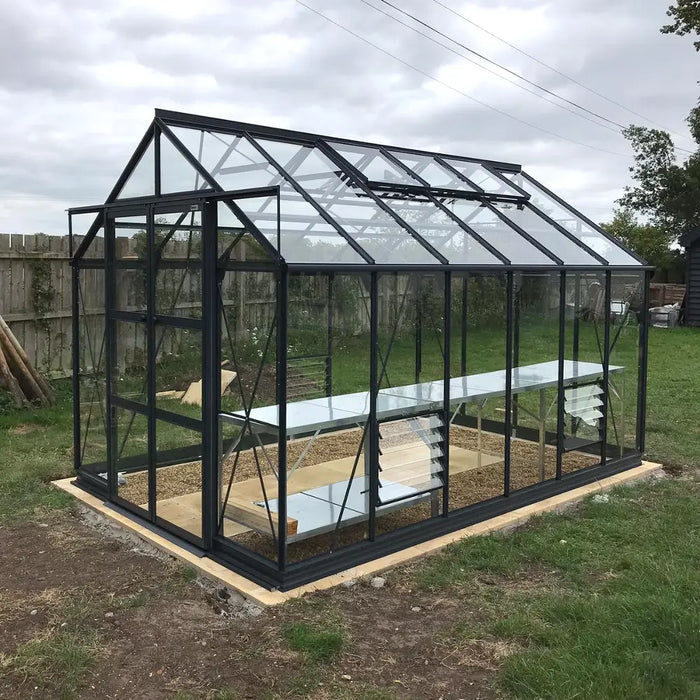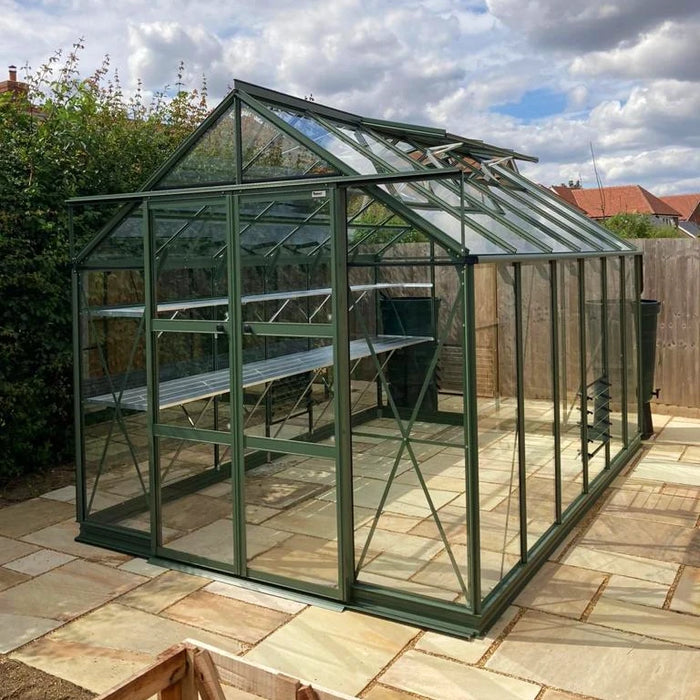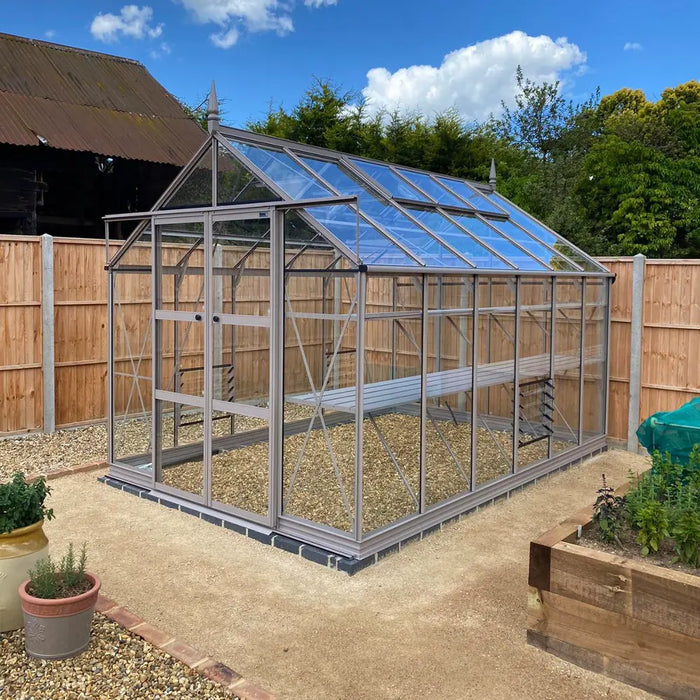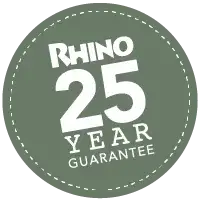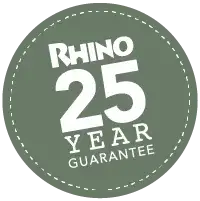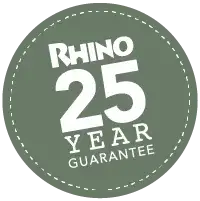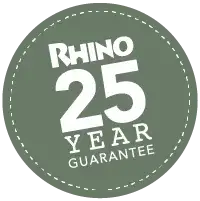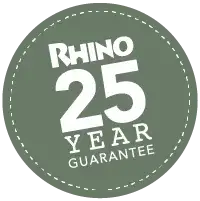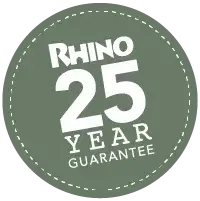 Request a
Brochure
Not just a brochure, we'll include a swatch of aluminium colour samples too! If you can't get to see a Rhino then you definitely need our brochure pack.
Get Yours Here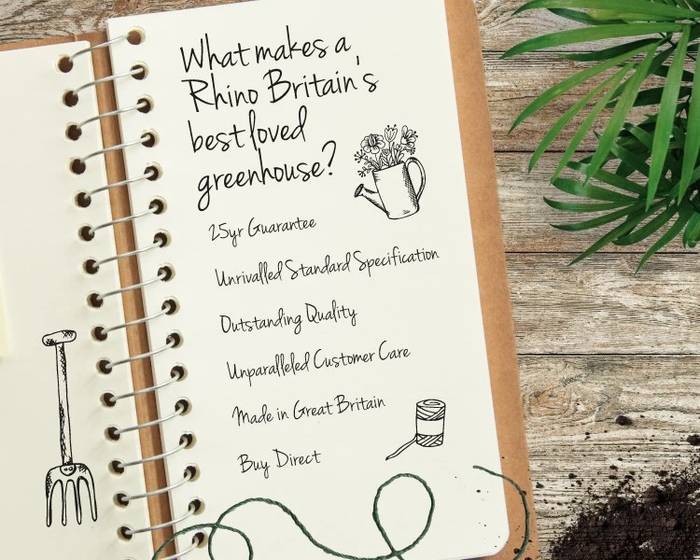 Pay only 10% deposit today
25 Year Guarantee
Rhino Premium 8x12 Greenhouse
Coloured Frame
£3,799.00

Regular price

£3,799.00
The Rhino Premium 8x12 Greenhouse - the perfect solution for gardeners who value quality and want to provide optimal care for their plants.
Made in Britain, this greenhouse offers a range of exceptional features, including automatic ventilation, toughened safety glass, hanging basket rails, and a no-trip door threshold with an accessibility ramp. Its super-strong box-section integral base plinth ensures maximum stability, allowing you to choose the foundation that perfectly complements your growing style – even firm compacted soil!
Not only is this greenhouse highly functional, but it also enhances the beauty of your garden. Choose from a variety of colours and consider adding optional finials to add an elegant touch. Its meticulous attention to detail and storm protection features, such as lock-in glazing beads and roof vent storm locks, provide complete peace of mind.
With a 25-year guarantee, this greenhouse is built to last. Crafted with the highest quality materials and craftsmanship in our British factory, it exemplifies our commitment to excellence.
The Rhino Premium 8x12 Greenhouse and give your plants the space, care, and protection they truly deserve. The Great British Rhino – Britain's Best Loved Greenhouse Brand!
Explore inside a Rhino
Click on the circles to learn more...
Explore inside a Rhino
Click on the circles to learn more...
Request a
Brochure
Not just a brochure, we'll include a swatch of aluminium colour samples too! If you can't get to see a Rhino then you definitely need our brochure pack.
Get Yours Here
What's Included
Dimensions
Installation
Delivery
Meet the Makers
Reviews
You'll love having a Rhino in your garden - it's the perfect environment for your plants and looks beautiful. It's also very strong and safe for you and your family.
Every Rhino is manufactured right here in the UK at our Norfolk factory. We care about quality which is why our Rhino's come with a 25 year guarantee.
Louvre Vents & Automatic Roof Ventilation
Included as standard with the Rhino Premium 8x12 greenhouse:
2 Triple Roof Vents
3 Side Louvre Vents
4 Automatic Roof Vent Openers
Storm Locks
Optimal ventilation is essential for growing, which is why all of our Rhino Premium greenhouses are fitted with as much roof ventilation as possible. By using a combination of single, double and triple roof vents we're able to efficiently use available roof space. Better still, each roof vent is controlled by solar-powered automatic vent openers so you'll never have to worry about your greenhouse if you go away for a couple of days.

When bad weather is expected, you'll want to make sure your plants are safe which is why our Rhino Premium vents are fitted with storm locks. These locks allow the vents to be secured down in bad weather, allowing the entire structure to be made airtight. Note that it is important to disengage the vents before putting the storm locks into position, to avoid causing any damage to the openers.

For optimal circulation, each Rhino is also fitted with our Rhino five-blade louvre vents which allow you to take full control of your ventilation. When working together, roof and side louvres allow cool air to enter from the side, circulate up through the greenhouse before forcing air to escape through the roof vents.
Adequate ventilation is absolutely crucial to successful growing under glass. There is not another greenhouse on the market that has more ventilation than a Rhino. Better still, it's all included in the price.
We've produced a handy guide explaining why ventilation is so important and how to optimise your greenhouse temperature.
4mm Toughened Glass – strong and safe
Keep yourself and your family safe with Rhino's combination glazing system: Toughened Safety Glass and Rubber Glazing Beads. Perfect for exposed locations and families with young children and pets.
Glass is arguably the most important part of a greenhouse. Which is why every Rhino is fitted with Grade A Rhino Tuff 4mm toughened safety glass. This glass is 33% thicker than most other greenhouse glass and is superior to horticultural or polycarbonate glazing. The panes are designed with safety in mind, the extra thickness and toughened construction mean breakages are less likely. In the unlikely event of a breakage, the glass is designed to shatter into lots of tiny pieces rather than big shards which can cause injury.
The edges of the glass are also rounded so that you don't cut yourself during installation.
Unlike other greenhouses our unique Rhino glazing system locks each pane of glass in place along its entire length, using long rubber beads. There are two main advantages of this system, firstly the glass cannot be blown or sucked out of the frame and pushing on the glass only locks the beads more tightly into the frame making it ideally engineered for high winds and other extreme weather conditions. Secondly, each pane becomes integral to the strength of the whole frame, along with the box-section glazing bead this provides even greater stability compared to the Classic range.
When compared with the glazing that comes as standard on most greenhouses, the Rhino ranges come up trumps every time. No dangerous horticultural glass or flimsy W-clips here; and with the smooth finish achieved by our glazing beads, there's no need for bar capping either.
Read more about greenhouse glazing options and the difference between standard glazing and the Rhino Tuff glazing system.
Strong Frame – great wind resistance
We wouldn't sit on the roof if a Rhino wasn't so strong! Indeed, it's why we named them Rhino. The Premium range builds on the already great strength of the Rhino Classic with box section glazing bars and 3mm thick 'T' section bracing throughout.
Each Rhino frame has around 60% more aluminium than similarly priced models. But it's not just the weight, it's the clever design of the Rhino that provides it's inherent strength.
To make sure The Rhino can cope with every season, we've tested the snow loading capacity of a Rhino by putting half a tonne of sand bags on the roof, so she's ready for whatever the Great British weather may throw at her.
Our Rhinos currently inhabit much of the UK, from Cornwall to Scotland and even further afield in the Falklands. We love hearing from customers, that's how we know The Rhino has withstood winds of up to 137mph!
Integral Base – stronger and great access
Every Rhino greenhouse includes a strong aluminium base in the price, which not only provides an incredibly strong foundation but also allows The Rhino to be erected simply onto firm, level soil – so there's no need for an expensive concrete base.
Once The Rhino is erected, strong stainless steel ground anchors are concreted into position.
The Rhino can also be erected on a hardstanding of concrete or paving slabs, in which case the stainless steel anchors are fixed using the fixings provided.
All Rhino greenhouses now include a low threshold door and ramp within the price. There's no longer a trip hazard at the doorway and on 8, 10 and 12ft wide models there is plenty of width for a wheelchair or wheelbarrow to enter with ease.
Hanging Basket Rails
Every Rhino greenhouse comes with two hanging basket rails.
The roof is so strong that it can easily handle this extra load, and it's a really useful feature. Your hanging baskets will thrive and it will also free up lots of space on your staging.
Rainwater Collection
Every Rhino greenhouse also comes with large integral gutters as well as downpipes and bends so you can collect and use the natural rainwater that your plants love.
There is an optional two-in-one kit available at an extra cost which joins the two pipes at the rear of the greenhouse and allows both gutters to feed into one water butt.
25 Year Guarantee – they're that good
Nothing says more about the quality of a Rhino greenhouse than our 25 Year Guarantee.
A generation of gardeners can rest assured that the frame and even the powder coated colour finish are covered, in the unlikely event that the greenhouse fails.
Base Preparation
Unlike most other greenhouse brands, our Rhinos can be erected on soil. This is only due to the strength created by its sturdy base and framework. A soil base should be level and fully compacted, freshly dug soil will shift too much and isn't suitable for use as a stable foundation.
Alternatively, as long as they're smooth and level, hardstanding bases are also suitable. Paving slabs, concrete bases and brick or block perimeter plinths can be used.
More information regarding base preparation and base plans for Rhino greenhouses is also available.
This Rhino Premium greenhouse stands at 8ft 4ins wide and 12ft 3ins long with a ridge height of 8ft 4ins.
Width (W)
8ft 4ins (2.54 metres)
Length (L)
12ft 3ins (3.73 metres)
Ridge (R)
8ft 4ins (2.54 metres)
Eaves (E)
5ft 5ins (1.65 metres)
Door (D)
6ft 5ins (1.95 metres)
Doorway (O)
4ft (1.21 metres)
Every Rhino greenhouse is delivered with a comprehensive set of instructions. With help at key moments, a competent DIY enthusiast can erect this size of greenhouse over a weekend.

However, this time and effort can be eliminated by using a professional installer who will quickly and efficiently erect, glaze and anchor down the greenhouse on your pre-prepared site – either soil or hardstanding. See our Guidance Notes on Site and Base Preparation and Installation.

Installer charges for this size (depending on location and exact specification) are from £350.

Tick the use recommended installer box in your basket and once you've placed an order, we will send you relevant details for independent installers local to you, should you wish you to pursue this.
More information about installation options can be found on our installation page.
More information regarding base preparation and base plans for Rhino greenhouses are also available.
Free Delivery to UK Mainland
Lead times for Rhino Greenhouses are currently
Rhino Classic & Rhino Premium: 2-6 weeks
Rhino Ultimate: 4-8 weeks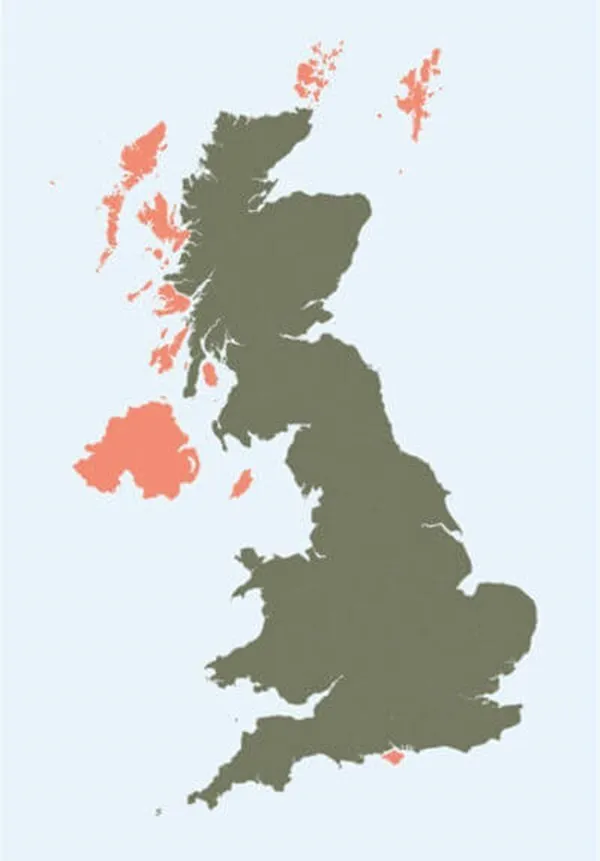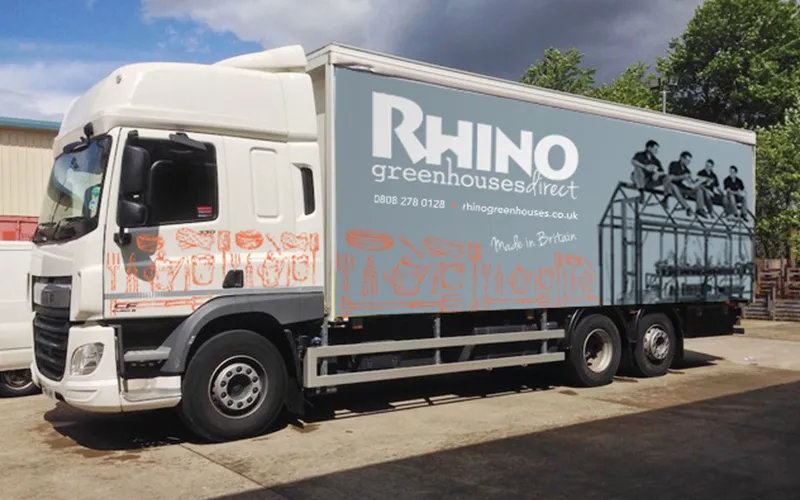 Free delivery is available to all green map areas (see above) and includes any accessories ordered with the greenhouse. The delivery team will contact you around 3 weeks prior to delivery to confirm the delivery date. Our deliveries will usually arrive on a standard lorry, unless alternative arrangements need to be made.
Once an order is confirmed, you will also receive a 'Help the Driver' form to provide additional guidance to our delivery team. This form will address queries concerning health and safety, remote locations and those who require delivery on a smaller vehicle (see image below).
If you do not live in the green map area or wish to delay your delivery, please contact our Sales team to discuss.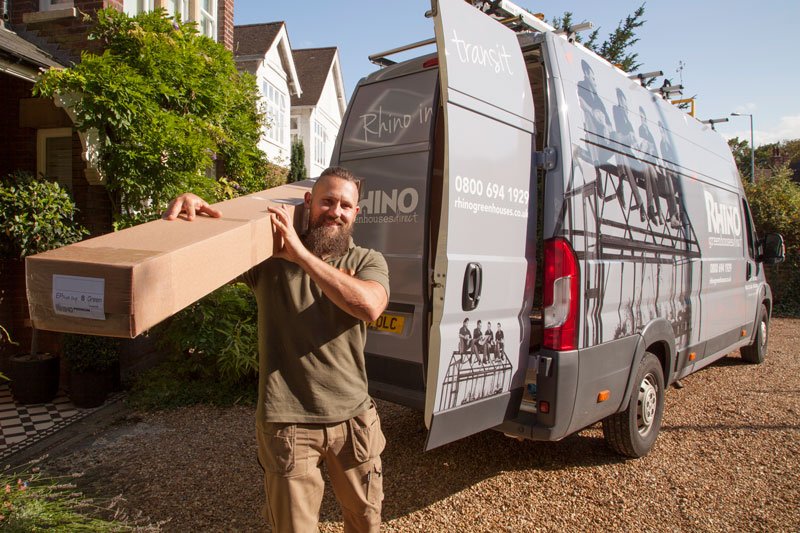 Every Rhino greenhouse is made in our very own factory in Norfolk, where we manufacture over half a million different parts a year, each one produced to our exacting standards and meeting our strict quality control systems.
Our dedicated staff really care about the Rhinos they produce, and many of them have been making Rhinos since we began – it's this pride that helps make our Rhino greenhouses strong, high quality and great value.
Rhino Premium 8x12 - Coloured Reviews
Most popular Reviews
Barry Whitehead - Rhino Premium 8x12 - Coloured
The ordering was simple and straight forward. Everything went smoothly. The greenhouse is great. Construction is strong.
Linda Curran - Rhino Premium 8x12 - Coloured
Beautiful greenhouse looks fantastic.
Jackie Brearley - Rhino Premium 8x12 - Coloured
My Rhino greenhouse is totally worth the money. Not only in terms of the excellent design and materials used but also in terms of mental health benefits. The whole process of ordering, delivery and erecting was seamless. Thank you
Jan & Mark Edge - Rhino Premium 8x12 - Coloured
Great greenhouse, sturdy, clean lines great design and excellent service throughout.
View all Reviews
Get Our Latest Offers, News and Guides