Halls Qube 6x10 Greenhouse
From £1,177.00
Estimated delivery up to 4 weeks
The largest of the Halls Qube range, the 6x10 greenhouse means you don't need to worry about running out of space.
The largest of the Halls Qube range, the 6x10 greenhouse means you don't need to worry about running out of space.
Read less
Request a
Brochure
Not just a brochure, we'll include a swatch of aluminium colour samples too! If you can't get to see a Rhino then you definitely need our brochure pack.
Get Yours Here
What's Included
Dimensions
Delivery
Strong and attractive, the Halls Qube range is an exciting addition to our range. These strong greenhouses come equipped with several features outlined in the accordions below.
Glazing
Each Qube greenhouse comes with 3mm toughened glass as standard, along with Halls' new bar capping and tape system. This means no clips are required to hold the glass in place.
Base
The Halls Qube greenhouse requires a base. It cannot be erected directly onto slabs or concrete.A brick plinth can be laid out, or you could purchase a bespoke base. Cheaper and easier to install, this allows the greenhouse to be erected directly onto compacted soil. Only the corner anchors of the base need to be concreted into position to secure it.If you'd prefer to construct a brick plinth, we can provide the exact outside base dimensions.
Ventilation
Two roof vents will allow your greenhouse to cool and your plants to breathe.Automatic openers can be added at an additional cost.
Rainwater Collection
With 60mm gutters, your greenhouse will collect plenty of rainwater. Simply connect a 40mm downpipe and a water butt to make the most of Britain's changeable weather.
10-Year Guarantee
With a strong, box-section frame, the Halls Qube will resist strong winds and bad weather. Halls is so confident in its durability that each one comes with a 10-year guarantee as standard.
Free Delivery to Mainland UK and Northern Ireland
Current Lead times for Halls Greenhouses are up to 4 weeks.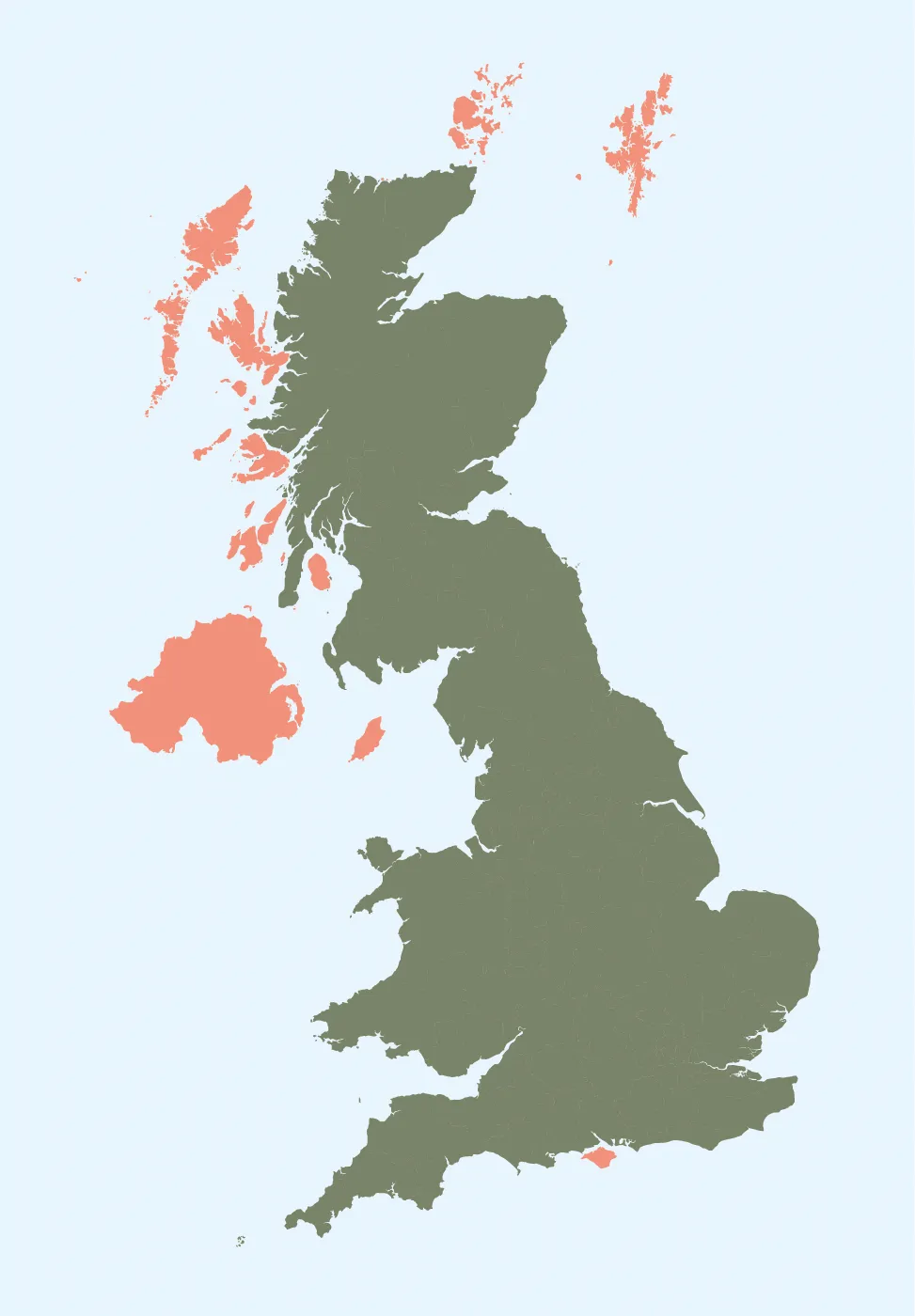 Free delivery is available to all green map areas (see above) and includes any accessories ordered with the greenhouse. Once an order has been placed, we hand over the reigns to Halls to organise delivery and they will get in touch with you to discuss dates.
We are currently unable to offer delivery to orange map areas or Northern Ireland. Please contact Halls Greenhouses directly to discuss any delievery queries.
Sign Up To Our Newsletter